You are Invited ...
Kilskeery Free Presbyterian Church
"Reformation Sabbath"
Sabbath services – October 30th
11.30 am
"A MOUNTAIN-TOP PSALM"
"Bless the LORD, O my soul: and all that is within me, bless his holy name,"
Psalm 103:1.
3.30 pm
A MOST SACRED KNOWLEDGE TO HAVE
"For ye know the grace of our Lord Jesus Christ, that, though he was rich, yet for your sakes he became poor, that ye through his poverty might be rich,"
2 Corinthians 8:9.

(This service will be followed by our Communion Service)
Preacher at both services:
Rev Ivan Foster
(Former Minister)
All are welcome to the services
or to join in

via Facebook
Posted on 2022-10-30 a 12:01 am
---
KICS Prize Winners at Fermanagh County Show
From early days after the establishment of the Independent Christian School in Kilskeery, pupils have entered pieces of work in the schools' competition as part of the annual Fermanagh County Show. Every year pupils have represented the school well and won individual prizes for English writing, crafts and art. This year the Collum Shield for the highest total of points scored in the schools' entries was awarded to two of our Year 6 pupils. Faith McFarland was (jointly) awarded the shield for the girl with the highest points and her classmate, Joseph Foster, was awarded the shield for the boy with the highest score.
The shields are on display in our school for this academic year and the awards have given great pleasure to teachers, pupils and parents in our little school and are a token of the Lord's continued favour upon the work and witness of Christian Education.
The above photographs are copied from the local newspaper, 'The Impartial Reporter'
In the top group photo, Joseph and Faith are second and third from the left in the back row and first and second in the back row in the second group photo.
We offer our sincere congratulations to Faith and Joseph.
Posted on 2022-10-26 a 4:37 pm
---
The folly of the 'Save The Earth' activists
"Christianity should be at the forefront of battle to save planet"
So writes one, Gareth Hanna, in the 'Belfast Telegraph', of October 24th. He is employed as a 'writer' there. Hanna claims to have been brought up in 'evangelical' Christianity here in Ulster.
He discloses more about himself in another article entitled:
"Why it's time more NI Christians came out as LGBTQ+ affirming"
He wrote: "As a Christian who has spent a lifetime within the religion in Northern Ireland, I now feel an ever-increasing responsibility to publicly say that I am convinced, wholly and utterly, that it is OK to be gay. I mean, of course it is — it's more than OK."
So now that we know the calibre of this purveyor of nonsense, we can examine his article about 'saving the planet' with an assurance that he is wrong on this topic as he is on the matter of Christianity and sodomy.
He starts off his 'treatise' with a reference to the TV cartoon characters, 'The Simpsons' and that immediately informs us of the sort of material from which he obtains his inspiration! Click to read more…
Posted on 2022-10-24 a 9:35 pm
---
Answering the balderdash of an 'Educated Ejit'
The article, the link to which is here posted, was sent to me by a friend.
Christendom by Peter Heather: the bloody history of its success
October 02 2022, 12.01am
I want to briefly deal with the central premise of the writer's diatribe for once it is demolished then the vile assertions he levels against 'Christianity', by confusing it with 'Christendom, fall apart.
I will entitle my response:
ANSWERING THE BALDERDASH OF AN 'EDUCATED EJIT'
Peter Heather, is one of those labelled by W P Nicholson a century ago as 'an educated ejit'!
Peter Heather is, as Wikipedia states: "Professor of Medieval History at King's College London."
It is little wonder the land is in the confused, lawless state that it manifests every day for all to see, with cretins like him filling the heads of the youth with unmitigated guff that he passes off as truth. Educated in the 'knowledge of men' he may be but he emanates every evidence of being one of "the enemies of the cross of Christ", referred to by Paul in Philippians 3:18.
What this 'Professor' narrates of 'Christendom's' history, whether or not accurately is for others to judge, is the history of the workings of that which Paul speaks of in 2 Thessalonians 2:7, as "the mystery of iniquity." This has manifested itself chiefly within 'Papal Antichristianity' and in more modern times as the theologically 'modernistic, liberal and ecumenical' movement within the camp of 'Protestantism'.
This was the spirit of error sent forth by the one the Lord Jesus said is "a liar, and the father of it," John 8:44. The early church leaders were in constant war against this 'lie' for the devil was ever seeking to plant it amongst the true believers in Christ. Jude tells us what the early guardians of God's truth were up against. "Beloved, when I gave all diligence to write unto you of the common salvation, it was needful for me to write unto you, and exhort you that ye should earnestly contend for the faith which was once delivered unto the saints. For there are certain men crept in unawares, who were before of old ordained to this condemnation, ungodly men, turning the grace of our God into lasciviousness, and denying the only Lord God, and our Lord Jesus Christ," Jude 1:3-4. Click to read more…
Posted on 2022-10-24 a 3:09 pm
---
A Response to the Saint Margaret Declaration from the Free Church of Scotland (continuing)
The following pdf is a lengthy article sent to me by Mr Lindsay McCallum, an elder in the Free Church of Scotland ( Continuing) and a retired school teacher who is the acting convener of the Church's Public Questions, Religion and Morals Committee.
It is a valuable response to the recent 'agreement' reached between the General Assembly of the Church of Scotland and the Roman Catholic Church in May of this year (2022)  and which was 'welcomed' by the Scottish Parliament.
This response to the agreement was sent to the Presiding Officer of the Scottish Parliament.
The terms of this iniquitous agreement are stated at the beginning of Mr McCallum's response.
We commend our Scottish brethren who 'earnestly contend for the faith once delivered to the saints' (Jude 3).
Sincerely in Christ's name,
Ivan Foster
Posted on 2022-10-21 a 4:14 pm
---
A tribute to Andrew McFarland
ANDREW McFARLAND, a former pupil of Kilskeery Independent Christian School, went to be with the Lord on Tuesday 18th October.
By Mrs Pamela Foster BA (Hons), MEd, Principal of the school
His Funeral Service will be conducted in Omagh Free Presbyterian Church by the minister, Rev Colin Mercer.
Service will be held on Friday, 21st October at 1.00 pm.
The service will be broadcast on Facebook, Youtube, and Sermonaudio.
Tuesday 18th October was a day of sadness in Kilskeery Independent Christian School when we heard that Andrew McFarland, a well-loved former pupil, whose father, uncles and aunt also attended our school, had gone to be forever with the Lord. Tears were shed by young pupils who sorrowed for their classmate, Faith, in the loss of a much loved and treasured brother; and by older pupils too, who remembered sharing their early school days with Andrew. However, the Lord ministered to us and granted comfort and peace to staff and pupils together as we sang one of the hymns often sung with Andrew in his last year as a pupil in our school:
Surely goodness and mercy shall follow me

All the days, all the days of my life;

And I shall dwell in the house of the Lord forever,

And I shall feast at the table spread for me;

Surely goodness and mercy shall follow me

All the days, all the days of my life;
When I walk through the dark, lonesome valley,

My Saviour will walk with me there;

And safely His great hand will lead me

To the mansions He's gone to prepare.
"Wee Andrew," as he continued to be affectionately called by many of the pupils and teachers, was the most winsome and appealing of children. Andrew joined our school in September 2013 and he brought into the classroom an infectious giggle, a mischievous glint in his eye and a smile that charmed every teacher who was privileged to know him and work with him. Even when it began to become clear that Andrew would need special help and support as new difficulties were faced in the classroom, Andrew continued to exude a joyfulness that was in itself a reward for all who spent time with him. Andrew was a very special blessing to our school, in that he drew the best out of others and in his company we saw many of our pupils increase in the fruits of kindness, care and compassion for Andrew and towards one another. He was quick to pick up new words and tunes and we have delightful memories of him singing with enthusiasm and enjoyment along with the other pupils – and sometimes bursting into song by himself in the middle of a class.
When changes in Andrew's condition meant it was necessary for him to move to Willowbridge Special School, we knew we would sorely miss a very special pupil. We set ourselves to pray that as Andrew could no longer be kept with us in the Christian school, the Lord would supply those, like Pharaoh's daughter, with the compassion and skills to provide for Andrew's next stage of care. Andrew's family have testified that in the goodness and mercy of the Lord that prayer was abundantly answered. But Andrew's teachers also asked the Lord that, before Andrew left the school and before his ability to communicate was further affected, there would be an evidence that this cheerful, good-natured little boy, who enjoyed praising the Lord and hearing His Word, was truly trusting in Christ as His Saviour. At that end-of-term Praise Service in June 2017, as the guest speaker, Rev William McDermott, in the midst of his message issued a challenge from the pulpit: "Are you saved?" pupils and teachers sitting around Andrew in the meeting heard his voice clearly raised in reply – "I am!" And when the preacher, unaware of the audible answer that had been given, repeated his challenge, Andrew again gave his testimony, "I am!" Many of our pupils and teachers, grieving at this time, remember that night with comfort and joy.
Whosoever therefore shall confess me before men, him will I confess also before my Father which is in heaven, Matthew 10:32.
Posted on 2022-10-20 a 6:02 pm
---
Something to remember when the wicked abound
Here is a recording of the message I preached at last night's Kilskeery Prayer Meeting when I stood in for Rev Jonathan Creane who is preaching in Nepal.
I trust you find some nourishment and encouragement for your soul.
Sincerely in Christ's name,
Ivan Foster
Read sermon notes here
View a video of this sermon here:
Posted on 2022-10-20 a 5:52 pm
---
Going back to sin is not the way forward!
So ran the headline on a 'Belfast Newsletter' article, dated 18th October, 2022. The link to the article was sent to me by a friend late yesterday evening. This prompted me to write the following.
The 'veteran' DUP MP, Jim Shannon, is a professing Christian. It is therefore all the more inexplicable and disappointing that he is calling for an amalgamation of the DUP and the Ulster Unionist Party. He sees such a step as a means of delivering 'Unionism' from its present difficulties.
Why do men think that going back to the ways and company from which they left because of its errors and sins, will bring deliverance?
The DUP was formed by Unionists who saw the policies of the Ulster Unionist Party as being dangerously compromising with regards Irish republicanism. Presently it is a party which embraces support for abortion and is 'big' on LGBT issues, having notable members who embrace the moral perversions of that 'coterie'.
Presently, the DUP still professes to be against abortion and its members would, I believe, be largely opposed to the moral depravity of the sodomite lobby. However, the party's stance on these issues has been undermined in recent years by some leading members voicing support of the 'lesbian, gay, bisexual, and transgender' elements within society. There is even a female DUP councillor who openly acknowledges a lifestyle that it utterly condemned by God in His Word who has been endorsed and lauded by the party. Click to read more…
Posted on 2022-10-19 a 7:12 pm
---
Why the utter confusion???
"O Lord, righteousness belongeth unto thee, but unto us confusion of faces, as at this day; to the men of Judah, and to the inhabitants of Jerusalem, and unto all Israel, that are near, and that are far off, through all the countries whither thou hast driven them, because of their trespass that they have trespassed against thee," Daniel 9:7.
The words of Daniel above, go a long way to answering my question. The state of the nation is indeed very closely linked to the relationship it has with the Lord. This is a truth that is not only linked to Israel, the elect nation, but it applies most definitely to any nation that has been favoured by God with a knowledge of the gospel of Jesus Christ.
No nation has been more favoured than that of the United Kingdom. Out of it went a translation of the Bible in 1611 which has shaped the English-speaking world, and still does. It was the birth place of the modern missionary movement in the eighteenth century, something that may be likened unto the aftermath or lesser repeat of the harvest of Pentecost.
But oh how that has changed! Today, the 'official view' of both the religious and the scientific world, is one based upon a total rejection of the Word of God, which if men were only to obey then they could say with the Psalmist: "O that my ways were directed to keep thy statutes! Then shall I not be ashamed, when I have respect unto all thy commandments," Psalms 119:5-6. Click to read more…
Posted on 2022-10-13 a 8:20 pm
---
The Creeslough tragedy
For a village of some 400 inhabitants, the sudden death, in a gas explosion at a shop and filling station, of ten of its villagers with ages ranging from five to fifty nine, is an unspeakable catastrophe.
We can only stand at a distance and grieve for those whose families have suffered such a loss. It seems so empty to give expression to sorrow but as one who has witnessed devastation on a similar scale on many occasions in my lifetime we can but offer sympathy and, above all, remember the sorrowing in prayer.
 (top row, left to right) Leona Harper, 14, Robert Garwe, 50, Shauna Flanagan Garwe, five, Jessica Gallagher, 24, and James O'Flaherty, 48, and (bottom row, left to right) Martina Martin, 49, Hugh Kelly, 59, Catherine O'Donnell, 39, her 13-year-old son James Monaghan, and Martin McGill, 49, the ten victims of explosion at Applegreen service station in the village of Creeslough in Co Donegal on Friday, 7th October.
There is One, only One, Who can comfort in such circumstances and He is the One spoken of in our old hymn:
Standing somewhere in the shadows you'll find Jesus
He's the only one who cares and understands.
Standing somewhere in the shadows you will find Him
and you'll know Him by the nail prints in his hand
Some may point the finger at the Lord and blame Him for such a tragedy but to do so is wrong, very wrong! The ancient patriarch Job sets the standard and the pattern we must adopt in such circumstances. What sorrow came on that man in a moment! Click to read more…
Posted on 2022-10-10 a 6:44 pm
---
2022 Ploughing Championship outreach in Co. Laois
It was thrilling to hear Rev Jonathan Creane's report of the Free Presbyterian witness at the Ploughing Match, held in County Laois, in his prayer meeting in Convoy FP Church.
It is heart-stirring to hear of the ready ear for the Word of God that was found amongst the many Roman Catholics who came into the tent to receive Bibles and the many items of gospel literature offered and to also have a cup of tea.
I know that your heart will be moved to pray for those who went away with God's Word.
How good it would be if the same interest was found amongst the Ulster 'Protestants' who have been privileged for centuries with the gospel!
Sincerely in Christ's name,
Ivan Foster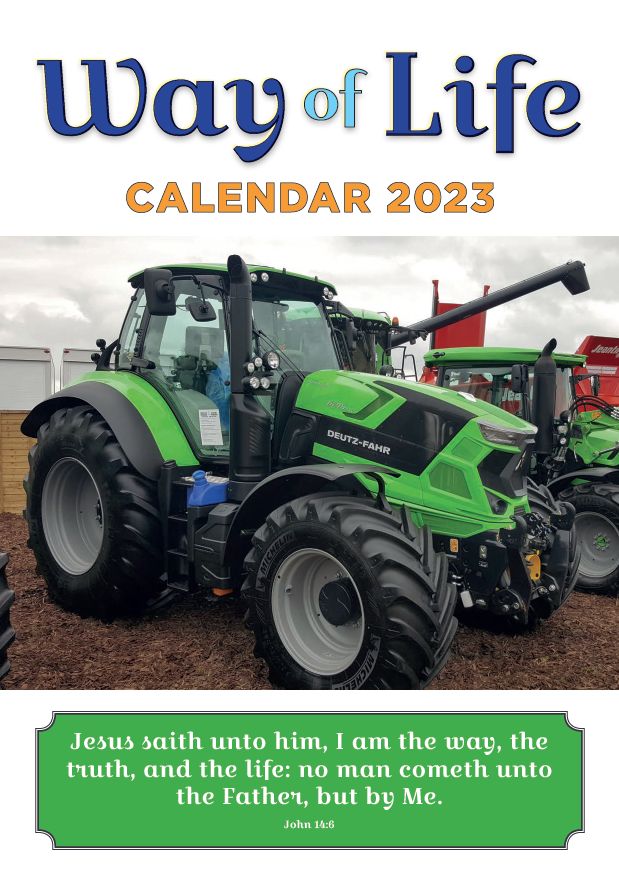 The Bible Calendar given out at the Ploughing Match. Click link below to download the full calendar.
Download and view the full calendar here:

click to view
Posted on 2022-10-07 a 7:48 pm
---
Identifying ourselves with the Lord
The following article arose out of my readings on the Sabbath Day past.
I thought that I would share my thoughts with you.
I have also included an audio recording of me reading the article. There ought not to be too many differences between the two!!
The Lord bless you all richly,
Ivan Foster
---
IDENTIFYING OURSELVES WITH THE LORD
"Moreover the word of the LORD came unto me, saying, Son of man, set thy face against mount Seir, and prophesy against it," Ezekiel 35:1-2.
One of my Bible readings for Lord's Day, 2nd October, was Ezekiel chapter 35. I noted what it was the Lord said to Ezekiel in the opening verses and thought to myself that:—
I. GOD'S SERVANTS ARE REQUIRED TO BE AGAINST THOSE THE LORD IS AGAINST!
This is surely the implication of the words: "Set thy face against mount Seir" when considered in the light of the opening words of the Lord's message to mount Seir, or the land of Edom. "And say unto it, Thus saith the Lord GOD; Behold, O mount Seir, I am against thee, and I will stretch out mine hand against thee, and I will make thee most desolate," verse 3.
To be God's servant in this day likewise requires a man to :—
1. Publicly manifest our opposition to that which the Lord is against. To do that we must be acquainted with God's view on the ways and practices of men around us. We must be familiar with the Lord's view of the conduct of our fellows in this age. Wickedness can 'creep up' on Christians and become accepted as being of no real harm. The devil loves to 'creep', Jude 4. He turns the heat up slowly so that few notice the change. It cannot be denied that there is much that is found acceptable to Christians today that was repudiated by previous generations. Conduct, lifestyle, behaviour, practices that are easily engaged in by many Christians today would have been utterly shunned by our forebears as totally unacceptable ways for a Christian to act. Click to read more…
Posted on 2022-10-05 a 8:06 pm